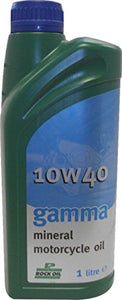 Engine oil to suit Honda C100, C90, C50 or C70. 
Rock Oil 10w40 Mineral (Gamma) in 1 ltr.
ROCK OIL GAMMA IS A PREMIUM QUALITY MINERAL SAE 10W40, 4 STROKE ENGINE OIL MEETING THE EXACTING DEMANDS OF CLASSIC BIKES AND MODERN HIGH PERFORMANCE MOTORCYCLE ENGINES WHERE A MINERAL OIL IS REQUIRED. GAMMA 10W40 ENSURES MAXIMUM ENGINE COMPONENT PROTECTION AND SUPERIOR RESISTANCE TO DEPOSITS AND CORROSION, RESULTING IN EXTENDED ENGINE LIFE AND OPTIMUM PERFORMANCE UNDER THE MOST ARDUOUS OF CONDITIONS. IT ALSO PASSES THE CRUCIAL CLUTCH FRICTION TEST REQUIRED TO MEET THE JASO MA SPECIFICATION, ALLOWING SAFE, PREDICTABLE USE IN WET CLUTCH APPLICATIONS.