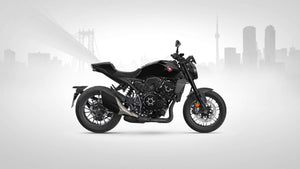 TAKE IT TO THE NEXT LEVEL
Step out of the shadows, to the ultimate in stealth style.
While the CB1000R is a motorcycle hewn into purposeful beauty, the CB1000R Black Edition goes further. Much further. It has been designed, not by bright light but in shadow, crafted for the purest thrill. And defined by darkness. Look at it. Your eyes have to adjust, at first glance; apart from a few machined aluminium details, everything on show is deep black. Or blacker still. Loaded with choice accessories, it rides under any radar and stands way, way out as it does.
Colours: Black
Licence: A Full